How to Clean your Tightpac?
How to Clean your Tightpac?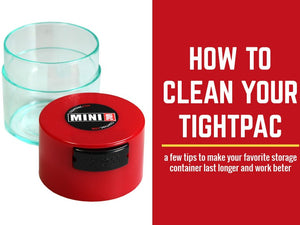 By Denise Mckenzie

It is easy to forget that many of the cannabis accessories you use every day will eventually need care and maintenance in order to perform as expected. Whether it is your go-to 5-footer, your favorite pipe, or the tools you use for dabbing, cannabis accessories get dirty. Even the Tightpac storage container needs a little TLC every once in a while, especially after prolonged or heavy use. Here are a few tips to keep your favorite storage container clean and working its best.

First of all, do not put a Tightpac container in the dishwasher. Hand wash only. We recommend using a sponge, warm water and a small amount of dish soap. Dry the container immediately after wash. This is especially important with the clear containers to prevent the clouding effect that tends to happen when certain types of soap are used.

It is very important to keep the interior of the cap and the top of the container clean and gunk-free. Neglecting to do this may result in difficulties pulling the lid on and off as the gunk tends to block the valve. This prevents air from being released properly, making the lid much harder to remove. Keeping this area clean will ensure a longer lifespan for you container, too.

There are a few great products to use to help remove the sticky residue. Try Grunge Off, Orange Chronic, or any other glass cleaner you can find online or at your local smoke shop. If you ever need get a replacement cap, you can purchase one here.

The original Tightpac is best when used with flower or any dry material. Using sticky material can cause the same issue with opening and closing the container. The stickiness prevents the lid from operating properly, making it a lot harder to get to your stash. Not to mention it is so much harder to clean once it makes contact with the plastic. If you happen to gunk up your Tightpac with the sticky stuff, clean the area thoroughly using alcohol or a strong soap to get off the goo. Don't forget to dry it off completely.




To avoid extra cleaning, we recommend using the iVAC and iVAULT to store your rosin, crumble or wax. The iVAC has the same airtight system as the cannister-style, but the iVAULT silicone insert makes it easy to remove your material without the mess. Plus, you can remove the insert to store your buds. Easily slip in your pocket or purse. You're good to go.

With proper maintenance and care, your Tightpac storage container should last a long time. But remember, as with anything, it is best to clean as you go. Don't wait until the last minute to give your 'vac some love. You will save yourself time in the long run so can enjoy what's inside.